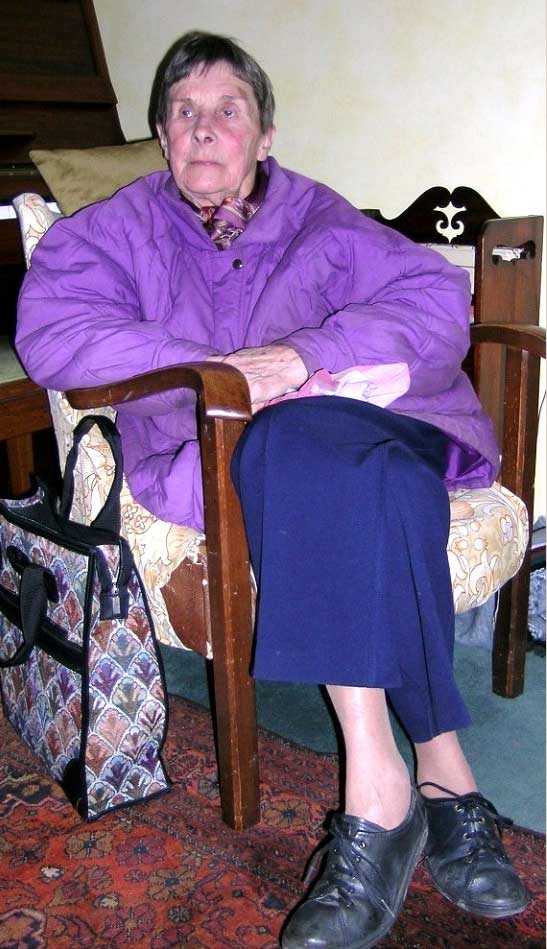 Nanny Pat
Pat Gawn
I first met Pat when I came to the village to live 20 years ago. She was riding around on her bicycle and taking a real interest in everyone and everything in the village and writing a report each month for Marie Blattman to publish in the Newsletter and here she is now with her 80th. birthday and still doing all of it.
She has been a most Conscientious caretaker of the Sailing Club until a few months ago and only just replaced by Margaret. For a few months the work was done by the Wednesday Men's Working Group and they know how much hard work it is. She has for many years cared for Harbour Lights. We all know how deeply she cares for her family and what a great loss came with the death of Aaron her grandson. There is her enthusiastic singing and acting for the Rye Singers and Players and being the life and soul of any party and how much she enjoys having Fred and Arthur on Christmas day. Now we see her walking her dog and throwing herself into working for Help the Aged and drawing in newcomers such as Anna and Ron.
Pat was born in Paynes' Cottages in the same room that Betty Brooks was born on December 16th. 1923. Father was a Caister and Grandfather was a Downey. She had a wonderful childhood as everything you needed was in Rye Harbour; swimming in the river, making fires and frying eggs and bacon on the beach with the Guide Leader. The Sunday School outing was a 2p. ride on the ferry over the river to Camber, taking jam sandwiches which became jam and sand sandwiches and playing in the dunes. Pat went to the Rye Harbour School which consisted of 40-50 children in 2 classes. At 11 she went to the Senior School in Rye in the New Road and Pat loved everything about school and stayed until 16 although she could have left at 15. The school teacher kept a cricket stump in class and you had to bend over if you were naughty, but pat did not have to! She enjoyed the cookery classes and made things like cheese straws and buns.
Pat started piano lessons in the Officers House when she was 5 years old. Her mum and dad ran a concert party down here called the Gay Birds, they sang and danced and did sketches and Pat's piano teacher - Phyllis Wallace was the pianist. She married a Harbour boy.
Pats' first job was at Winters Dairies bottling milk. When the war came Pat left home to go to Slough to train to be an Aircraft Fitter. Slough was a horrible place but Pat loved the work and camaraderie. After she Passed Out she had to learn to read graphs and went to Reading Aerodrome to work on Spitfires. Amy Johnson and her husband were the test pilots. Pat was so skinny and small she could squeeze into small spaces and used to fit compasses into the planes.
She had the opportunity to fly but did not fancy it. She also did splicing on parachutes Jim Downey her grandfather had taught her to splice. She found it all very interesting. One day a Lancaster aero plane came into the airport doing an emergency landing after being shot down over the Channel and one of the crew walking through the hangar was to Pats' amazement Norman Caister whose parents kept the Conqueror. Pat met Roy through a friend on Winchelsea Beach who asked pat to be Roy's pen friend while he was in the Navy on warships on the Russian and Malta Convoys. He was a Gun Layer but never wanted to talk about it was 'hell on earth'. A year later he came to Rye Harbour to meet Pat's parents and they got married. Roy's father was a Customs Officer at Shoreham. Pat's father was a longshoreman laying nets, shrimping and
lugworm digging. Roy's boat was torpedoed and came into Rosyth for repairs and Pat went to join him in Edinburgh. Roy then changed boats and they went to Hull for further repairs to the new boat for 1 and half years. Pat then came back to Rye Harbour and waited for Roy to be de-mobbed and they lived in a beautiful little cottage behind the Conqueror and then moved to Tram Road. Roy worked in Philips' Yard in Rock Channel and then had his own shed round the Point and built clinker fishing boats all in wood GRP was only just beginning to come in then.
They had baby Julie and Pat worked in the fields for Cyril and Grahams' father with potatoes, mangold wurzles. Julie sometimes gets Pat holiday brochures to try and get Pat away for a holiday but Pat just loves it here in Rye Harbour and does not want to go anywhere else. She gets a great deal of pleasure from working in the kitchen and handing round teas for Age Concern and enjoys being useful.
Well Pat I can hardly do you justice but have always appreciated your enthusiasm and love of life and cheery words and welcome you have given newcomers such as myself. Thank you.

SADLY PAT GAWN PASSED AWAY WEDNESDAY 18th JANUARY 06.

THIS ARTICLE WAS ORIGINALLY WRITTEN BY JILL HALPIN AND PUBLISHED IN RYE HARBOUR NEWSLETTER IN A SERIES CALLED CHARACTERS OF RYE HARBOUR ISSUE 4 VOL 3
Picture Added on 03 March 2007.




Comments
For more information on this subject see the following websites.
Rye Harbour Newsletter




---