| | |
| --- | --- |
| Picture No: | 466 |
| Courtesy of: | Jim Hill |
| Year: | 1950 |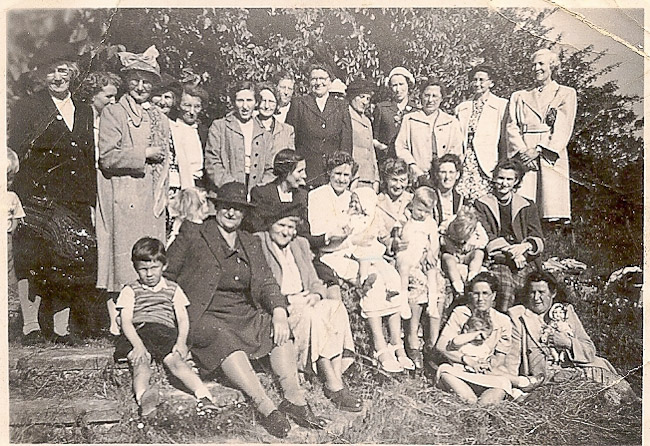 Rye Harbour group
Jim Hill writes from Canada - I am sure the picture was taken in Rye Harbour as I can see my Mum, Joan Doust (2nd row, left side with child) but have no idea who anyone else is.
Can anyone else be recognised?
The date is a guess!

Trevor Clark gave this reply.

I am not sure about most of the people but I will have a go. Bottom row from left it looks like my Mum probably with Roger on her lap, to her right holding the doll looks like Daphne Rogers, next row up from the left big lady with dark hat and coat, 2nd from left, looks like our next door neighbour, always called her Aunt Liz, not sure of surname may have been, Almond?next row back sitting lady on the left dark hair dark coat looks like Mrs Ford (Foord), lady on her right with child on her lap looks a bit like Elsie Haffenden, to her right looks like Sylvia Alford with child on her lap. Back row right hand side looks like my real Aunt Nellie Hedgler. 3rd from right looks like Mrs Cutting? lady to her left with white hat looks a bit like Mrs White who emigrated to Australia, 6th from right big lady dark coat hat and glasses could be Eva Saunders, 2nd to her left could be Bessie Goddard. I would have thought it was a day trip on a coach trip somewhere for them all to be together for a group photo.


Picture Added on 03 April 2020.




---