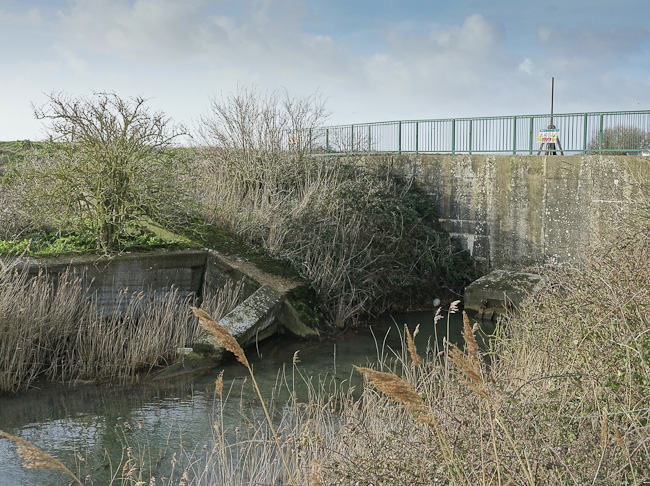 The White Bridge
Upstream from the Black Bridge on the Nook Drain was the so called White Bridge, (now a footpath in the middle of the caravan site). From today's white bridge the old original ruins of the first bridge can be seen collapsed on the banks of the drain. This original bridge was at one time the only access to the beach over Nook drain (because the Black Bridge wasn't built until 1945) and it was on the line of the original river embankment which can still be seen today.

The intention of this embankment was to keep the Rother from flooding the marshes to the west and the old White Bridge was integral to this. Unfortunately in 1931 the sea broke through at Dogs Hill (Winchelsea Beach) and the flood far from coming from the Rother actually came from the sea in totally the opposite direction. The old bridge wasn't designed for pressure from that direction and so it was washed away.

It was of course eventually rebuilt, but the old remains are still there. The route was to be superseded by the beach road in 1945.

Incidentally, the lifeboat men would have taken the embankment route and the white bridge over the Nook drain in the 1928 Mary Stanford disaster, trying to get to the lifeboat house on the shore.

Further towards the shoreline on the embankment route, there was a right angled bend in the embankment and there used to be a pond on the landward side, created when the embankment was built. My mother (Eva Coleman, nee Southerden) always said that a boy was drowned in this pond, but I have no further information on that.
Picture Added on 09 February 2019.




Comments


---