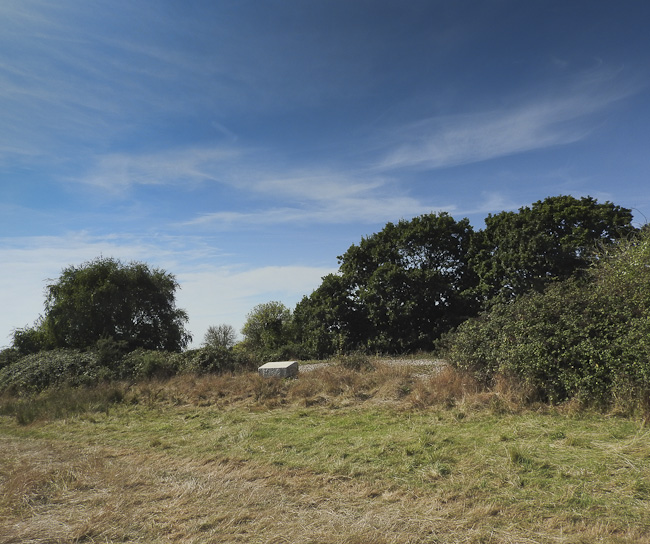 Memorial to Fl/lt. Harry R Hamilton
The turf-covered shingle wastes of Castle Farm, Rye, are too inhospitable for oak trees but all the same there's a small clump of them just south of Camber Castle itself. Few of the walkers who enjoy the open sky and wildlife of Rye Harbour Nature Reserve notice this rounded copse however, let alone comprehend its significance.
The first of these oaks, a sapling from Pett, was planted during the Second World War by Ernest Sutton, encouraged by locally based Canadian troops to mark the spot where one of their countrymen had died. Harry Hamilton from New Brunswick was 23 when his Hurricane was shot down there on August 29th 1940.
He had joined the RAF in 1936 so was already an experienced pilot by the time the Battle of Britain began and had already been in two engagements with the Luftwaffe that afternoon. Once the morning rain had cleared, Hamilton led A Flight of 85 squadron against enemy aircraft over Maidstone before flying south to attack a huge mass of 300 bombers and fighters crossing the coast at Hastings. Back at base, Hamilton hurriedly wrote up his combat reports – you can find them in the National Archive – before scrambling again in the early evening.
Once more, his section intercepted a large formation of bombers, but when it became apparent that they had been lured towards a far superior fighter escort, the Hurricanes were recalled. Two aircraft failed to return, one of them Hamilton's which had plunged into the old storm ridges of Winchelsea Beach. His body lies in the cemetery at Hawkinge.
That first oak, planted in a hollow to avoid the ever-present wind and to give its roots closer access to the water table, has survived and even multiplied over the years as acorns were thrown north-eastwards by the prevailing wind. Four trees now form a green dome close to Castle Water but until now have constituted a memorial stirring little recollection even though they form part of a historic landscape which bears the relics of military campaigns from the fourteenth to the twentieth centuries.
To revive awareness of this brave pilot's fate, the Friends of Rye Harbour Nature Reserve have, this year, called on the joint expertise of aviation museums, and historians to install an unmissable carved stone close to the "Hamilton's Oaks" - as we have started to call them. The Environment Agency kindly donated and transported the block, which was once part of the ill-fated Smeaton's Harbour. Into this, local stonemason James Tomlinson has carved Harry R Hamilton's name, rank, number and date of death, along with the Canadian maple leaf.
Frank Langrish arranged for the finished work to be trundled into position on Sussex Wildlife Trust land and on Battle of Britain Day, 15th September 2016, it was dedicated by the Revd Canon David Frost, Rector & Rural Dean of Rye before a group of those who had helped to bring this project to fruition and members of the Royal British Legion. Wreaths were laid by the RAF/RBL, the Battle of Britain Historical Society and the Shoreham Aircraft Museum. A Canadian wreath was laid by Hugh Sutton, son of the man who'd planted the first tree, thus completing a task begun seventy-six years ago by ensuring that Hamilton's name will now not be forgotten.
by Cliff Dean
Picture Added on 17 September 2016.




---